Enforcing Category Management Execution 
The 
solution thanks to a unique combination of innovative software and hardware, is capable of efficient management of price labels in stores. The system allows significant increasing of the compliance level of Space Management plans, reducing costs related to shelf edge label management and improving of in-store merchandising. The system is based on a Digital Store Map (DSM), which is a virtual representation of the store including all shelves, aisles and product exposition areas. Thanks to the integration between JDA Category and Space Management and DSM, there is a tight link between planograms and floor plans on one side, and actual in-store situation on the other. This bidirectional link allows delivering the plans to the stores and drives shelf tag printig as well as allows capturing the actual shelf situation and feeds it to JDA system as realograms.
DSM is using the patent pending 
which is a mobile, battery powered device capable of printing labels on plastic strips.The plastic strips are then inserted into the standard shelf fixings without the need of preparing any additional adjustments on the shelves. The printer prints all the price labels from a given shelf on a plastic strip in one go. This means that within approx. 30 seconds, depending on the number of labels, the store staff can update all the prices on one shelf. It gives an average efficiency rate of approximately 600 labels per hour (more than 6 times faster than usual store staff efficiency).
insure consistency between planograms and shelf labelling without the ne ed of having highly qualified merchandisers in the store.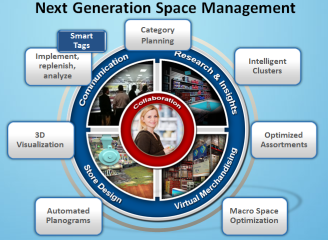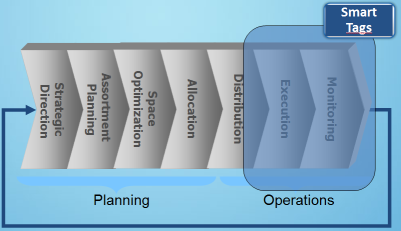 System benefits overview: 
improved planogram to shelf compliance
efficient shelf edge labels management
clear customer guidance system
enhanced in-store logistics
facilitated marketing and promotion campaigns
personnel efficiency monitoring
Turn Planograms Theory into Efficient Shelf Execution and Real Results
Maximize the benefits of Space Management by enforcing high level of planogram compliance
Monitor in-store situation and provide agile reaction to assortment and demand changes as well as  promotional activities
Integrate shelf space management and shelf label management into one powerful business process driving your revenue and stock levels